The Wilne 10k course map has been updated to reflect the development of the event.  Whilst the course taken is still the same as the previous 4 years, the start, all kilometre marks and the finish will be moved forward 275m for the 2015 event.
Please click below for the amended Wilne 10k route: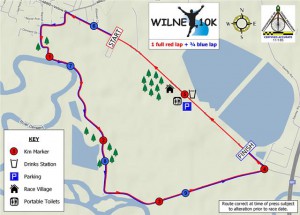 The changes have been put in place to improve the pre and post finish area for the runners and spectators as well as the Race Village being relocated to Orchid Wood.  The finish area was satisfactory for the first year of the event back in 2011 when we had 564 finishers but as the event has developed and grown in size over the years, the finish has become more crowded and difficult for spectators to get into good positions to cheer on their friends and family.  A new finish area 275m further forward will mean more spectators can cheer the runners on prior to the finish, there will be more room available (for the very short amount of time it affects) for runners being lapped to keep left so those at the front can pass on the right, the new finish design will ensure spectators do not crowd the sterile finish area or even enter into the sterile area, the medical team will have better access to the route and the finish, and the post race drinks area will be part of the sterile finish area rather than outside of it.
Our anticipation is that more spectators will have access to this area to give a better atmosphere.  We hope you enjoy it!